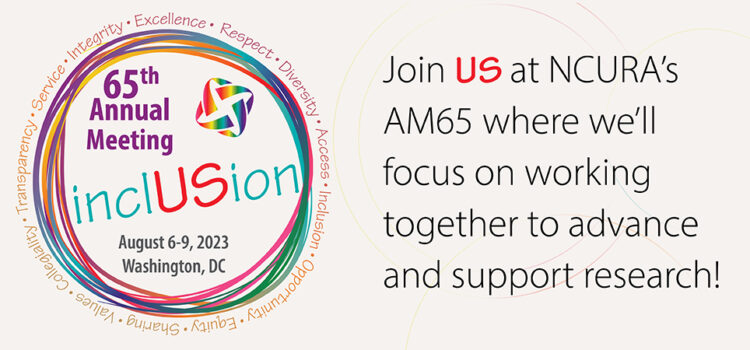 Join us during AM65 August 6-9, 2023 for a series of events dedicated to Region VIII (8) members including Monday night welcome reception, and Region 8 workshop. In Addition to NCURA's opening night event and Tuesday Night event. This is a wonderful time to network and meet with your peers from around the globe!
---
NCURA's opening night event
Sunday, August 6, 2023 | Smithsonian American Art Museum & National Portrait Gallery
---
Region 8 members welcome reception
Monday, August 7, 2023 | Meet at the Terrace Level of the Washington Hilton Hotel
Join your NCURA colleagues from across the globe for a Region 8 Welcome reception on Monday, August 7. This is a fabulous opportunity to connect and celebrate our hard work and amazing impact on creating a supportive global research administration and management comm
---
NCURA's AM65 Tuesday Night event
Tuesday, August 8, 2023 | Washington Hilton Hotel
---
Region 8 workshop
NIH for International Institutions: Best Practices, Application Tips, and NIH RePORTER
Thursday, August 10 | Meet at the Terrace Level of the Washington Hilton Hotel. Campus: 1140 Biology-Psychology Building, 4094 Campus Drive, College Park, MD
This workshop delivered by the University of Maryland's administrative training program, Borderless Research Administration Knowledge Exchange (BRAKE), will provide strategies and practical takeaways for international institutions on managing compliance during pre-award and post-award for NIH grants. Participants will learn about NIH's funding mechanisms, scientific review, submission requirements, and pre- and post- award issues. We will provide resources to share with your investigators on parts of the proposal, including what NIH wants in each section and what reviewers are looking for. The workshop will end with a focus on NIH RePORTER, which is more than just a database of NIH funded research. It is a treasure trove of information for administrators and researchers alike. We will show participants how to use RePORTER as a tool to find Program Officers, study sections, who else applied to what funding opportunity, and comparative costs. You will be able to go back to your institution (or open your laptop) and use this tool immediately. Participation is highly encouraged! The full program will be added here shortly.
Registration
Register for Region 8 events via the NCURA AM65 Registration form. Click here to access the form.
Questions? Contact Region VIII Executive Committee ncura.regionviii@gmail.com.
---
Region 8 Travel Award 
AWARD
The NCURA Region VIII Executive Committee is pleased to offer Region VIII members the opportunity to apply for a Travel Award to attend the NCURA 65th Annual Meeting in Washington, D.C.
One Travel Award valued at $1,000 (USD) is available to support the reimbursement of costs associated with the registration, travel, hotel or related expenses to the Annual Meeting.
The award's purpose is to allow new Research Managers and Administrators to gain an international perspective and meet colleagues from around the globe to enhance their experience working in research management.
The Region VIII Executive Committee will select the successful recipient based on the submitted application and letter of support.
ELIGIBILITY
The award is available to research administrators from the Region VIII geographic area who have never attended an NCURA annual or regional meeting. The applicant:
must have at least one year of experience working with research funding from the USA;

is not required to be a member of NCURA at the time of submission. But will be required to join as part of the registration fee for the meeting.
 APPLICATION PROCEDURE
Please complete and submit this form with a letter of support from the applicant's supervisor and send it to NCURA Region VIII (ncura.regionviii@gmail.com) as one consolidated document by Tuesday, June 27, 2023. Applicants will be notified of the outcome in mid-July.
SUCCESSFUL RECIPIENT
The awardee must submit a report within a month of the meeting describing their experience and benefit from attending the conference. The report template will be provided to the awardee by the Executive Committee. The awardee must submit the report with the reimbursement request and/or relevant receipts/documents. The Executive Committee will call upon the awardee to become an active volunteer for the region from time to time.
The committee reserves the right not to make an award.
LATE APPLICATIONS WILL NOT BE ACCEPTED
---